BIRD CARPUS
(WRIST)
http://en.wikipedia.org/wiki/Carpus
"The wing of a modern
bird
, for example, has only two remaining carpals; the
radiale
(the scaphoid of mammals)
and a

bone formed from the fusion

of four of the distal carpals.
[14]"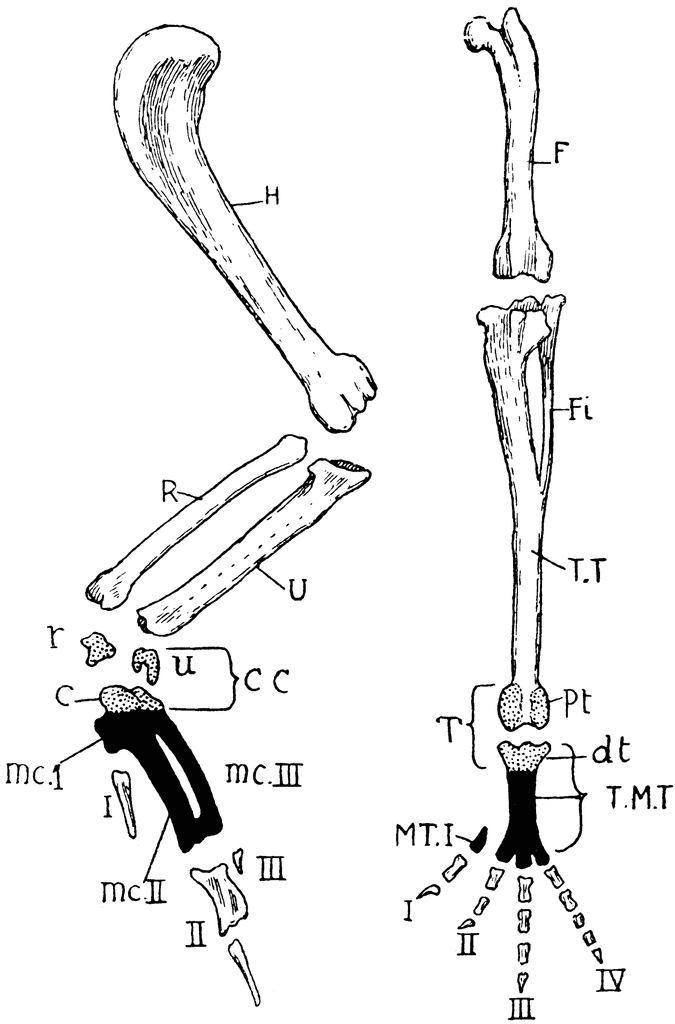 Modern Bird Carpus (diagram on the left)
Description: "Fore-limb and hind-limb compared. H., Humerus; R., radius; U., ulna; r., radiale; u., ulnare; C., distal carpals united to carpo-metacarpus; CC., the whole carpal region; MC.I., metacarpal of the thumb; I., phalanx of the thumb; MC.II., second metacarpus; II., second digit; MC.III., third metacarpus; III., third digit. F., femur; T.T., tibio-tarsus; Fi., fibula; Pt., proximal tarsals united to lower end of tibia; dt., distal tarsals united to upper end of tarso-metatarsus (T.MT.); T., entire tarsal region; MT.I., first metatarsal, free; I.-IV., toes."
To put this in perspective here is a human carpus (wrist):
BONES OF HAND (from radial) (both images are of the right hand)
Proximal: A=Scaphoid, B=Lunate, C=Triquetral, D=Pisiform
Distal: E=Trapezium, F=Trapezoid, G=Capitate, H=Hamate
1= Radius, 2=Ulna, 3=Metacarpals

Posterior and anterior view of a human carpus
http://www.port.ac.uk/special/pterosaurs/pterosaurs/thepterosaurwing/